Flexible Cancellation Terms
BOOK YOUR NEXT STRESS FREE HOLIDAY  .....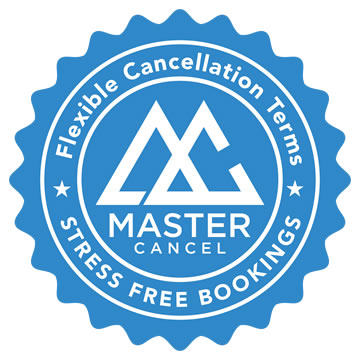 Full refund paid if you need to cancel (benefit includes coverage until 2 days before check in date).
With our Master Cancel policy, you can cancel for any reason any time from 60 days up to 2 days before the start of your holiday, so you can book with confidence.  This doesn't cover you for the last 2 days before arrival, or your check-in day, so we would still recommend that you get UK travel insurance (just in case you were unable to travel at the last minute, due to health reasons for example), but at least it does give you peace of mind, and you can book with confidence.  Example: For a check in on Saturday, Guests could cancel the prior Monday, Tuesday, and Wednesday, but not Friday (1 day prior) or Saturday (day of check in).
Guests may cancel their reservation by notifying Forest Barn Holidays Ltd in writing that they wish to cancel. Please note: Cancellations made 1 day prior to or on the day of check-in will not be eligible for refund.
These flexible terms & conditions allow you to book with confidence, knowing that if you cancel for unforeseen circumstances, we will refund you in full. 
Please note: 
Bookings placed NOW 20th July 2020 for holidays commencing after 1st August 2020 will have Cancellation Protection under our Master Cancel Policy and confirmed, in writing, on your reservation confirmation.
Pre-existing bookings are not cancellation protected, meaning that if you cancel then our normal terms and conditions will apply. Your reservation confirmation will be silent on master cancel.
Hear From Our Previous Guests...
Very stylish and comfortable School Rooms accommodation – and a great base for family days out.
Amy, John and family
This is the second holiday that we have had at the Chapel - we were so pleased with the service and accomodation. We arrived early and Geoff let us in straight away. The welcome hamper was lovely and the accomodation was beautifully clean and had everything we wanted/needed. We love this part of the country and the location is perfect for walking and relaxing. We will be booking again for next year without a doubt. Thank you to Lynda and Geoff for your excellent service and hospitalilty.
Sarah and Tom
Lovely property a real home from home, clean, comfortable, glamorous well thought out décor and touches to make the stay as comfortable and enjoyable as possible.
Shirley and Edward