Groups
This five star, award winning, Chapel location is situated conveniently for local dining at the Inn nearby without use of the car. Pew Corner is spacious and is suitable for entertaining up to 12 with gourmet kitchen too. 
It is the perfect venue to bring friends and family for a celebration and gathering. Our accommodation is ideal for Hen or Stag Weekends.
Please give us a ring or email to let us know what you have in mind!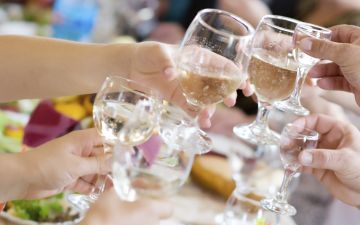 Make it your Style, Make it Unique, Make it Romantic, or Make it Grand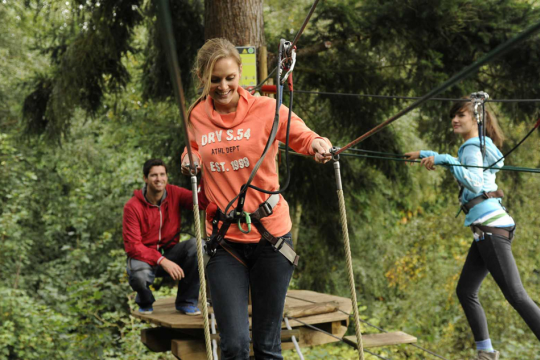 Go Ape Forest Adventure
The classic and original Go Ape experience. They'll brief you for safety before you fly down our zip-wires, leap off our Tarzan Swing and tackle our crossings whilst enjoying some of Britain's most breathtaking scenery.
We think everyone has the Go Ape spirit just waiting to be unleashed! There's no greater rush than the great outdoors, so whether your tribe is a stag do, birthday party, corporate event or simply a day out with the kids, we make our courses as fun and as accessible as possible.
It's for anyone who likes to live life adventurously – you don't have to be a seasoned explorer to enjoy a Go Ape experience!
Can I Go Ape?
Minimum Age – 10yrs
Minimum Height – 1.4m (4ft7")
Maximum weight – 20.5 stones (130kg)
Corporate and Events
Inspire, Energise and Motivate your Tribe. Get in touch with their Go Ape Events Team to get your tribe in the trees at the Forest of Dean. Like all the best things in life, Go Ape is even better shared. Your day could include our 'classic' tree top adventure, mountain biking, a Forest BBQ, welcome drinks and much more.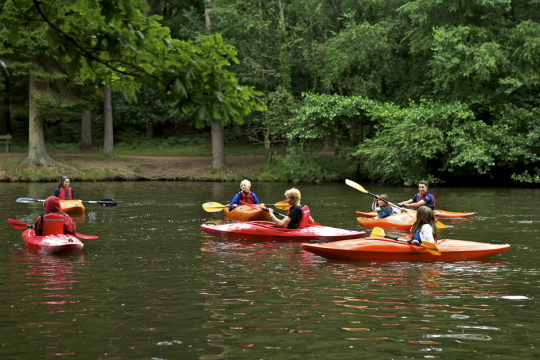 Way2Go
Why not let Way2Go Adventures guide you and your family or friends on one of our activities we provide Canoeing, Kayaking, Bushcraft, Nordic Walking and Raft Building which are perfect for soaking in all the beauty of the area and the wildlife.
Canoeing and Kayaking on the River Wye from Glasbury to Chepstow.  We are lucky to be based in the beautiful Forest of Dean, which means we can personalise each trip to suit your need and previous experience (although none is required!) We offer open canoes and closed kayaks, which are both very stable.
Nordic Walking use poles to let your upper body enhance your walking. This can help tone your muscles and you can burn 20-40% more calories than day-to-day walking. We use number of great locations, so you can enjoy some of the stunning scenery the Forest of Dean and Wye Valley have to offer while walking with us.
In addition we offer:
Taster days and activity weekends
Introductions to kayaking, canoeing, sea kayaking, Nordic Walking and Bushcraft
Sea kayaking trips
BCU Kayak and Canoe courses
Raft building
Weekly Walks
Canoe and Kayak campout trips
We cater for all, so if you are looking for a fun and safe experience Way2Go adventures are the Way2Go.  We welcome families, individuals, groups, school and youth groups, team building events, stag & hen parties, or any other special occasion including children's parties.
Way2Go Adventures hold the AALA license for working with under-18s on canoeing, kayaking and raft building activities.
---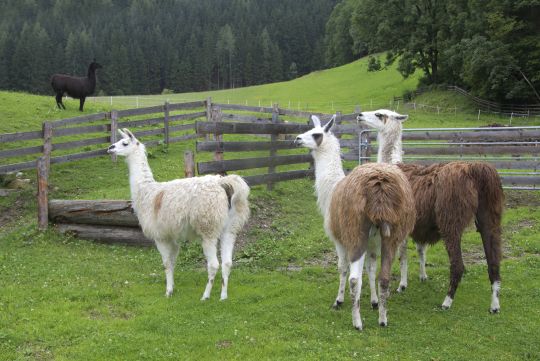 Llama Treks In The Woods
Meeting at Mallards Pike Lake get introduced to the Llamas, Camels, Mules and Donkey and your guide will show you how to handle them.
The Llamas and camels will then in their own lovely way proceed to teach you anything that the guide forgot to say. 
The animals are extremely well trained and completely "bomb proof". Once everyone is happy you leave Mallards Pike Lake and head directly into the centre of the Forest.
Lunch time comes round so its time to stop for a picnic and while the llamas and camels rest we enjoy lunch. 
The Mallard Pike trek is 7 miles of very easy walking and is designed in such a way that it can easily be shortened or lengthened on the day. The llamas and camels walk at a pace to suit you. They are never in a hurry. 
Hear From Our Previous Guests...
Very stylish and comfortable School Rooms accommodation – and a great base for family days out.
Amy, John and family
This is the second holiday that we have had at the Chapel - we were so pleased with the service and accomodation. We arrived early and Geoff let us in straight away. The welcome hamper was lovely and the accomodation was beautifully clean and had everything we wanted/needed. We love this part of the country and the location is perfect for walking and relaxing. We will be booking again for next year without a doubt. Thank you to Lynda and Geoff for your excellent service and hospitalilty.
Sarah and Tom
Lovely property a real home from home, clean, comfortable, glamorous well thought out décor and touches to make the stay as comfortable and enjoyable as possible.
Shirley and Edward