Woodland Hot Tub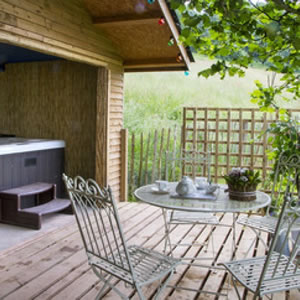 Book your private 'dip' in our secluded Woodland Hot Tub.
Several of our luxury cottages at Forest Barn Holidays have their own private hot tubs - The Manor, Meadow Byre and Orchard Barn.  However, all our guests including those at our sister site Chapel Forest Holidays are welcome to book a private 'dip' session in the woodland hot tub.
The woodland hot tub is located in a very secluded setting and offers a changing room with toilet, seating area with garden furniture, and glassware suitable for outdoor use. 
This woodland hot tub is only bookable once you arrive on site. Bookings are for a 2 hour time slot and are subject to availability during your stay.
Please contact Lynda upon your arrival to book your session.
Hear From Our Previous Guests...
Very stylish and comfortable School Rooms accommodation – and a great base for family days out.
Amy, John and family
This is the second holiday that we have had at the Chapel - we were so pleased with the service and accomodation. We arrived early and Geoff let us in straight away. The welcome hamper was lovely and the accomodation was beautifully clean and had everything we wanted/needed. We love this part of the country and the location is perfect for walking and relaxing. We will be booking again for next year without a doubt. Thank you to Lynda and Geoff for your excellent service and hospitalilty.
Sarah and Tom
Lovely property a real home from home, clean, comfortable, glamorous well thought out décor and touches to make the stay as comfortable and enjoyable as possible.
Shirley and Edward